Luxury linen for yachts
Bed linen, tablecloths, bath sets, bathrobes, and towels to embellish all the interiors and exteriors of the most renowned yachts in the world. At Lara, we are specialized in the artisanal production of an infinite range of custom products made in Italy by Italian tailors, obtained from the selection of the best fabrics in the world.
Custom bedding, beyond all expectations
The creation of our linen is a reflection of your personality and tastes. We like to dress yachts with products of superior quality, completely customizable and tailor-made to obtain products with a unique design in the world. For us, the most beautiful goal is the achievement of your goal, we are highly committed to the realization of your projects.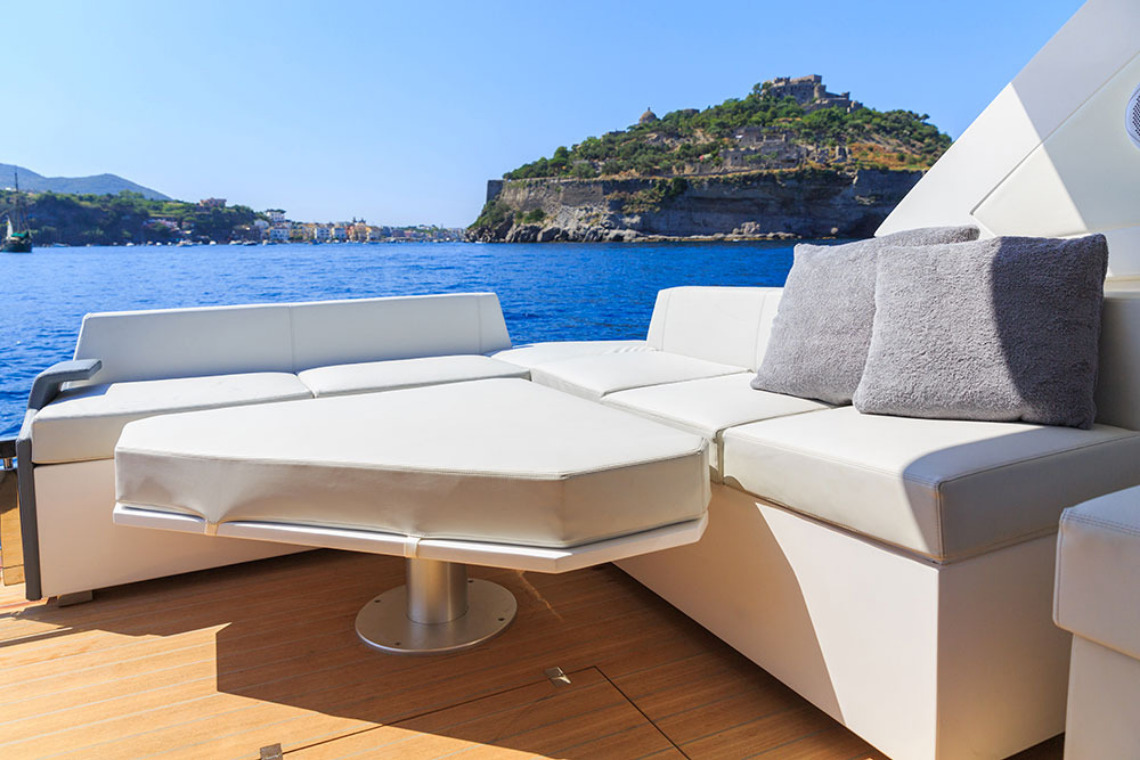 Departure
Our work starts with an in-depth knowledge of the textile industry and the craftsmanship of our Italian tailors. We like to pursue quality, with an eye toward new trends using artisanal techniques handed down for generations. We understand your needs and guide you in the choice of fabrics, finishes, and embroideries to tailor-make your interior design project, from the crew rooms to the sophisticated workings of the main cabins.
Travel
During the realization of the project, we are always at your side to update you on production, timing, and delivery. Before giving life to your creations, it is our responsibility to share a creative draft via e-mail and send you a sample of already worked fabric, allowing you to touch the final result. Only after receiving your confirmation do we begin to get down to work to produce the required quantities.
Docking
Before concluding the project, we manage the logistics in a meticulous way. We deal with trusted couriers to find the best offer and ensure the delivery of goods in the desired place and timeframe.
At Lara, we combine the most exclusive fabrics in the world with your creativity and our craftsmanship. With meticulous attention to detail, we offer you the best, to beautify yachts with truly unique products. We help you create environments where you can breathe the excellence of customized products of rare quality.
Bedroom
There is nothing more beautiful than a well-made bed. At Lara, we specialize in making luxurious bed linens tailored to perfectly fit beds of any shape and size. In our workshop you can create sheets, pillowcases, bedspreads, duvet covers, blankets, and many other items to beautify the bedroom, adapting it to your style. You can choose from an infinite number of fabrics (link to the part on fabrics for the bed), colors, and finishes, from which you can create personalized collections to your taste.
Kitchen and dining room
Tablecloths, placemats, centerpieces, napkins, aprons, towels, and floor mats in any shape, color, and fabric. These are just a few products that we can craft, to transform the kitchen into a special environment with its own identity. Everything is customizable according to your taste. In fact, our catalog is expandable to fit your needs.

External
The outdoor spaces of the yacht are treated in detail, like all the interiors. Towels, bathrobes, placemats, and sets for the total comfort of guests, are prepared with care by the Italian tailors of our luxury workshop. At Lara, we create custom-made collections from your creative ideas, to make the outdoor space a place where everything is perfectly in tune with your style.

Bathroom
In the bathroom, pleasantly rediscover the comfort and pleasure of towels, rugs, and hand-crafted bathrobes. There are many kinds of cotton to choose from to adapt to your projects and bathroom design. All cottons are considered the best in the world for their impeccable qualities: softness, absorbency, and consistent texture. Additionally, they are certified from origin to be free of any harmful substances as are all other fabrics selected by Lara.
Request Information
Your request has been submitted, thank you.
We will respond as soon as possible.
Error during the form submission.
Please retry later or contact us directly via email: andrea@lara-linen.it